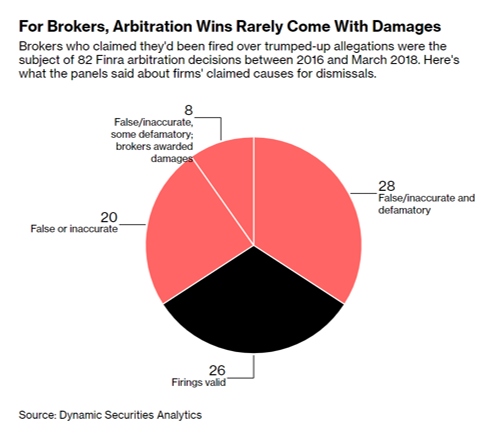 A story by Neil Weinberg in Bloomberg relied on Dynamic Securities Analytics ('DSA') analysis of Finra employment arbitration results.
DSA found that arbitrators sided with brokers in the majority of cases, finding that the employment termination U5 forms contained false, inaccurate and/or defamatory information. However, even when arbitrators found the information defamatory, they rarely granted damages to the broker.
The story also delved into the Cebert v Morgan Stanley employment dispute in which DSA president, Alison Jimenez, provided expert analysis of U5 termination filings. Arbitrators awarded Mr. Cebert $2.4 million dollars and found that the firm made defamatory statements to the advisor's clients "in at least a grossly negligent manner (if not with a self-serving, malicious move) … that defamed or were intended to defame [Cebert] in the minds of his customers."
DSA president quoted in Bloomberg article:
Because those penalties and big damage awards like Cebert's are rare, firms could look at the overall costs and decide that filing inaccurate U-5s are a "cost-effective business decision," said Alison Jimenez, the president of Dynamic Securities Analytics, a securities research firm that has studied recent Finra employment disputes.
See DSA's other securities employment analysis:
The Potential for Bias Against Women in Finra's High Risk Rep Algorithm
The Links between Finra's High Risk Rep Algorithm and Expungement
How Were Finra Disputes Resolved?
Which Broker/Dealers Get Sued by Reps Most Often?