**UPDATE: 65,397 Unregistered MSB SARs filed through December 2021 by San Francisco MSBs.**
The Take-Away: Cryptocurrency exchanges filed thousands of unregistered cryptocurrency exchange SARs in 2021. The good news is that the registered cryptocurrency exchanges are detecting unregistered cryptocurrency exchanges. The bad news is that the horde of unregistered cryptocurrency exchanges are likely non-compliant with AML obligations. Moreover, unregistered cryptocurrency exchanges SARs are filed at a much lower rate by banks and securities firms.
65,000+ Unregistered MSB SARs filed in 2021
FinCEN SAR Stats reports 65,397 Suspicious Activity Reports (SARs) were filed through December 2021 by MSBs against "Unregistered or Unlicensed MSBs".
The graph below shows the exponential growth in SARs filed by registered MSBs about unregistered MSBs through October 2021.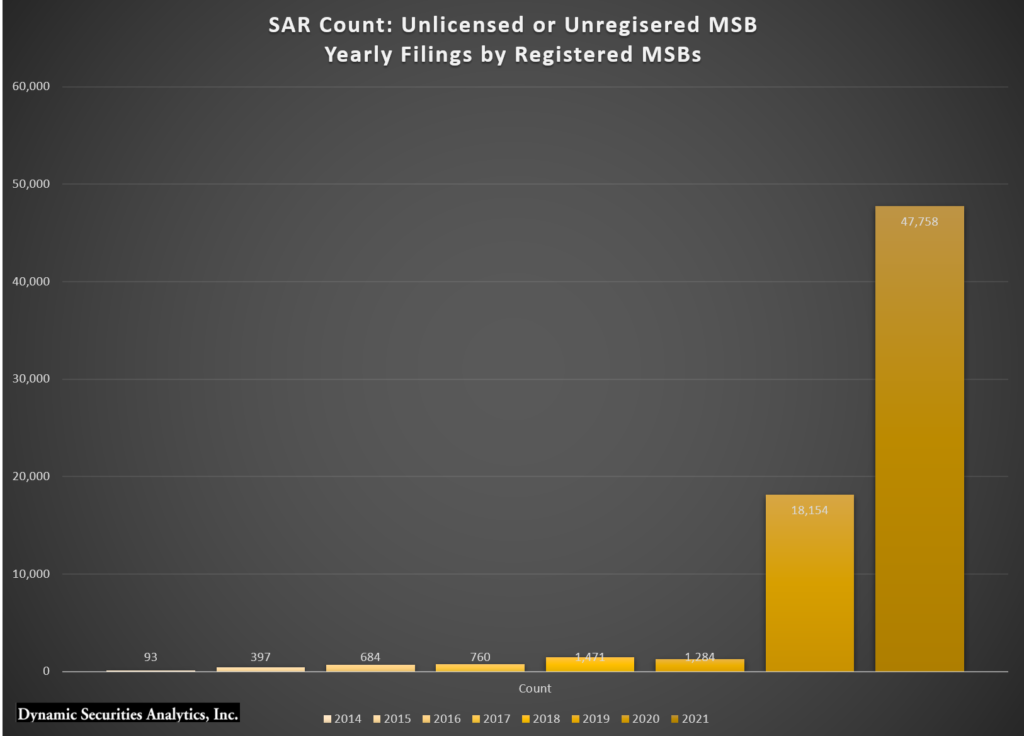 I first noted this sharp uptick in DSA's 2018 SAR Insights:
Licensed and registered MSBs made it their mission in 2018 to root out unlicensed MSBs. SAR filings doubled from 633 to 1,275 for Unlicensed or Unregistered MSBs. One possible explanation is the crack-down on virtual currency exchanges as unlicensed MSBs.

It wasn't your corner convenience store MSB filing these SARs, it was MSBs located in Silicon Valley. In fact, 87% of the Unlicensed or Unregistered MSB SARs were filed by MSBs in Santa Clara County and San Francisco County, CA.

2018 SAR Insights: Suspicious Activity Reports Annual Analysis by Alison Jimenez
Why did Unregistered Cryptocurrency Exchange SARs skyrocket?
The spike in unregistered cryptocurrency exchange SARs corresponds with the timing of key events in the crypto space.
First, FinCEN and other regulators heightened the expectation that cryptocurrency firms register as MSBs. In May 2019, FinCEN issued an Advisory on Illicit Activity Involving Convertible Virtual Currency which noted:
Many business models of entities dealing with CVC operate as money transmitters. As money transmitters, persons accepting and transmitting CVC are required, like any money transmitter, to register with FinCEN as MSBs and comply with anti-money laundering/countering the financing of terrorism (AML/CFT) program, recordkeeping, and reporting requirements. These requirements apply equally to domestic and foreign-located CVC money transmitters doing business in whole or substantial part within the United States, even if the foreign-located entity has no physical presence in the United States.
In fact, some of today's major cryptocurrency exchanges first registered with FinCEN in 2019. Once the crypto exchanges were registered, they had to start filing SARs on suspicious activity, including on unregistered MSBs.
Finally, a series of government enforcement actions [see below] against unregistered exchanges (including unregistered nested exchanges) also likely contributed to the surge in SAR filings about unregistered VASPs.
Who is filing Unregistered Cryptocurrency Exchange SARs?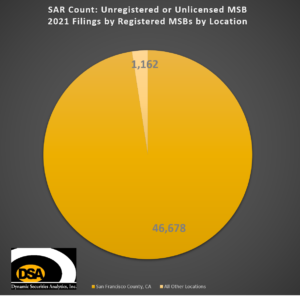 Over 98.5% of the unregistered MSB SARs were filed in by MSBs located in San Francisco County, California.
Cryptocurrency exchanges with legal locations in San Francisco County are the likely filers of the 65,397 "unregistered MSB" SARs filed through October 2021.
FinCEN maintains a directory of registered MSBs. Several of the largest cryptocurrency exchanges including Coinbase, Kraken, OKcoin, and Binance.us are located in San Francisco County per the registry.
While many fintechs and social media payment companies (ex. Paypal and Google Payments) are located in Silicon Valley, their SARs are geo-linked to Santa Clara County. Therefore, the data leads me to conclude that the SAR filers are crypto exchanges located in San Francisco County.
Who Is Not Filing Unregistered Cryptocurrency Exchange SARs en masse?
Neither banks nor securities firms reported a similar spike in unregistered MSBs in 2021. This is concerning because at some point, these unregistered MSBs will convert cryptocurrency into fiat currency that will likely end up in a traditional financial institution.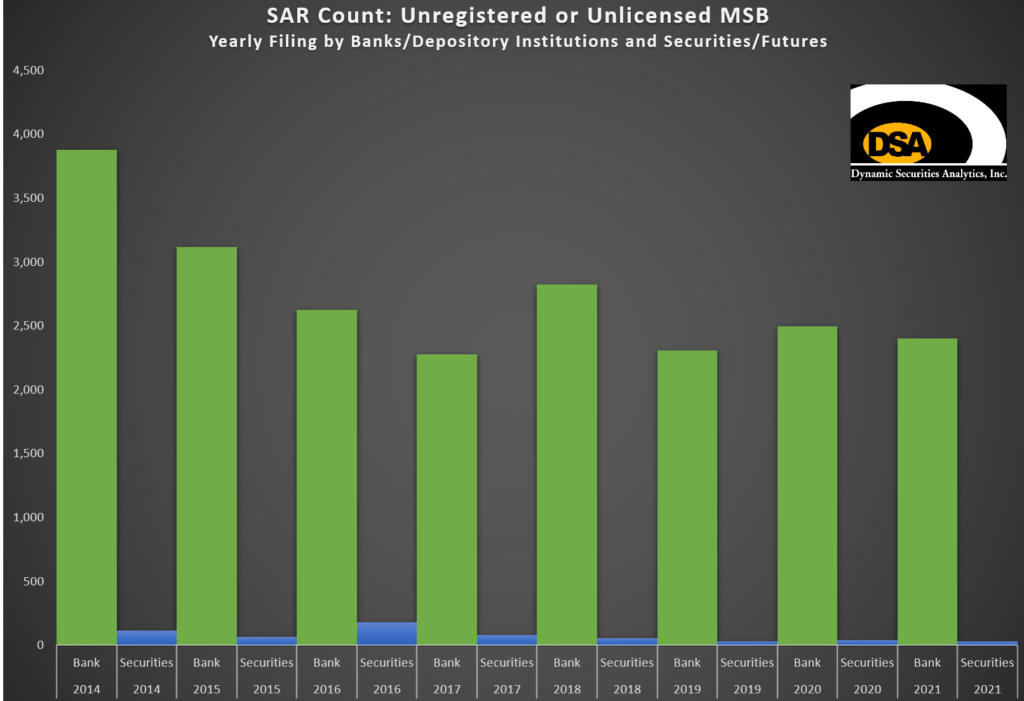 Implications of Unregistered Cryptocurrency Exchanges
Unregistered cryptocurrency exchanges may not collect CIP or KYC information, identify suspicious activity, file SARs, or comply with OFAC obligations.
FinCEN, FATF, the SEC, DOJ, IRS and National Security Council have all expressed concern about unregistered cryptocurrency exchanges (and other types of unregistered Virtual Asset Service Providers).
The FinCEN Advisory on Illicit Activity Involving Convertible Virtual Currency states "the prevalence of unregistered CVC entities without sufficient AML/CFT controls and the limited transparency of the CVC transactions makes CVCs an attractive method of money transmission by those engaged in illicit conduct and other criminal acts that threaten US national security."
The Department of Justice found that "unlicensed or unregistered exchanges or money transmitting businesses can provide an avenue of laundering for those who use digital currency for illicit purposes".
Additionally, the DOJ's Cryptocurrency Enforcement Framework reported that "many P2P exchanges fail to register with FinCEN as MSBs or to comply with BSA obligations."
Finally, a February 2021 study by the State of New Jersey found that more than one-third of companies operating cryptocurrency ATMs in the state were not registered with FinCEN.
FinCEN Enforcement Actions relating to Unregistered Cryptocurrency Exchanges
FinCEN has announced a variety of enforcement actions relating to unregistered MSB virtual currency exchanges including:
$60 million penalty against Helix and Coin Ninja founder
$700,000 penalty against Ripple Labs.
FinCEN's enforcement action against BTC-E.
FinCEN's enforcement action against Eric Powers as a "peer-to-peer exchanger of virtual currency."
Other Cryptocurrency Exchange Registration Failings
Unregistered cryptocurrency exchanges can also find themselves in violation of registration requirements with the CFTC and/or SEC if they offer securities or derivatives.
CFTC: $100 million BitMex penalty
SEC: $10.4 million Poloniex penalty
SEC: $388,000 EtherDelta penalty
---
Want more Suspicious Activity Report insights?
Read DSA's 2020, 2019, 2018 and 2016 SAR Insights.
Watch "How Covid-19 Impacted SARs".
---
SAR counts downloaded from FinCEN SAR Stats with data last updated 10/31/2021 per FinCEN. All analysis, charts, and graphs prepared by Dynamic Securities Analytics, Inc.