Much attention has been given to Attorney General Sessions rescission of the Cole Memo which offered guidance to DOJ attorneys and law enforcement on what types of types of marijuana cases to prioritize. Lost in the commentary is the fact that FinCEN's guidance to financial institutions regarding Marijuana Related Businesses ('MRB') has not changed or been rescinded. Since FinCEN is yet to comment on the rescinded Cole Memo, I wonder if the Treasury Department was consulted on the AG's move.
Catch-22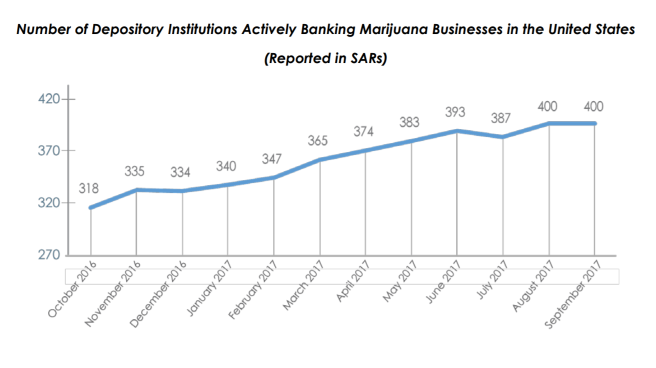 The myth that MRBs rely exclusively on cash continues despite DSA's analyses that shows otherwise (see here, here, here and here). There are at least 400 financial institutions that are actively engaged with the cannabis industry per FinCEN's most recent data. The number of financial institutions actively banking MRBs increased 25% from October 2016 to September 2017. Additionally, analysis by MRB Monitor reported in American Banker found that cannabis businesses "reported having access to funds in at least one account at Bank of America, Citi, Wells or JPMorgan, or at one of their subsidiaries."
However, many financial institutions publicly state that they do not bank MRBs. Less acknowledged either by marijuana industry or by financial institutions is that MRBs routinely enter the financial system by using traditional money laundering tactics including: shell companies, front companies, obfuscating ownership, and lying about what their business engages in.
Lying about the true nature of the marijuana business creates a "damned if you do, damned if you don't" scenario for banks. For instance, if a credit union decides to bank MRBs, the bar is very high for the bank in creating and maintaining compliance for those accounts. Whereas, if a bank decides not to provide services to MRBs, the bank is also going to have to closely monitor accounts to uncover MRBs posing as other businesses.
"My advice [to banks] is to not take any solace or feel relaxed because you say you don't engage in the [marijuana] business," Jimenez said. "You have heightened compliance in case you do decide to bank these customers, and if you don't, you have to proactively make sure you don't, by screening your customers and knowing who you are dealing with."
-DSA President, Alison Jimenez, quote from TBBJ article on marijuana banking
Potential Impact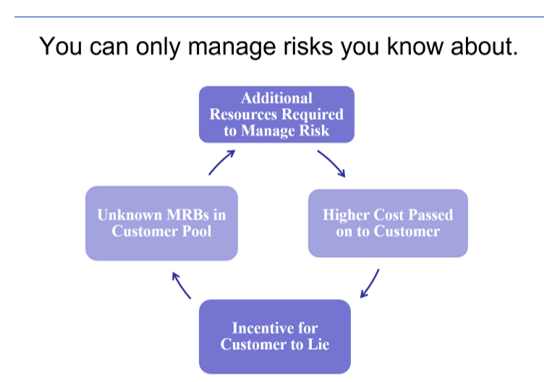 The full impact of the AG's rescission of the Cole Memo is yet to be seen but it can be expected that some of the 400 financial institutions actively banking MRBs will likely close accounts thereby pushing MRBs underground, but still within banks, posing as some other type of business.
Graphic: Dynamic Securities Analytics, Inc.