This article focuses on analysis of human smuggling SARs reported by financial institutions. For a broader overview of how human smuggling works and what financial institutions need to know, read my recent article on Legal Executive Institute.
Migrant/Human Smuggling is focused moving people across national borders illegally for profit. This profit will likely flow through or be deposited at a financial institution and should be identified via SARs. Migrant smuggling tragedies underscore the important role of financial institutions in identifying human smuggling.*
Insights from Human Smuggling SARs
FinCEN provided human smuggling a stand-alone category on the Suspicious Activity Report (SAR) form beginning in mid-2018. The addition of the human smuggling checkbox built upon the 2014 FinCEN advisory on Human Trafficking and Human Smuggling.
Dynamic Securities Analytics (DSA) analyzed all Human Smuggling SARs reported in FinCEN SAR Statistics from August 2018 through September 2019. All charts, analyses and graphs cited below were prepared by DSA. With new data in hand, financial institutions can learn from each other regarding identifying human smuggling.
Financial Institutions filed 2,275 Human Smuggling SARs in just over one year of reporting. Money Services Business (MSBs) filed over 87% of the SARs while Depository Institutions/Banks filed 9%. Casinos and "Other" financial institutions reported the remainder.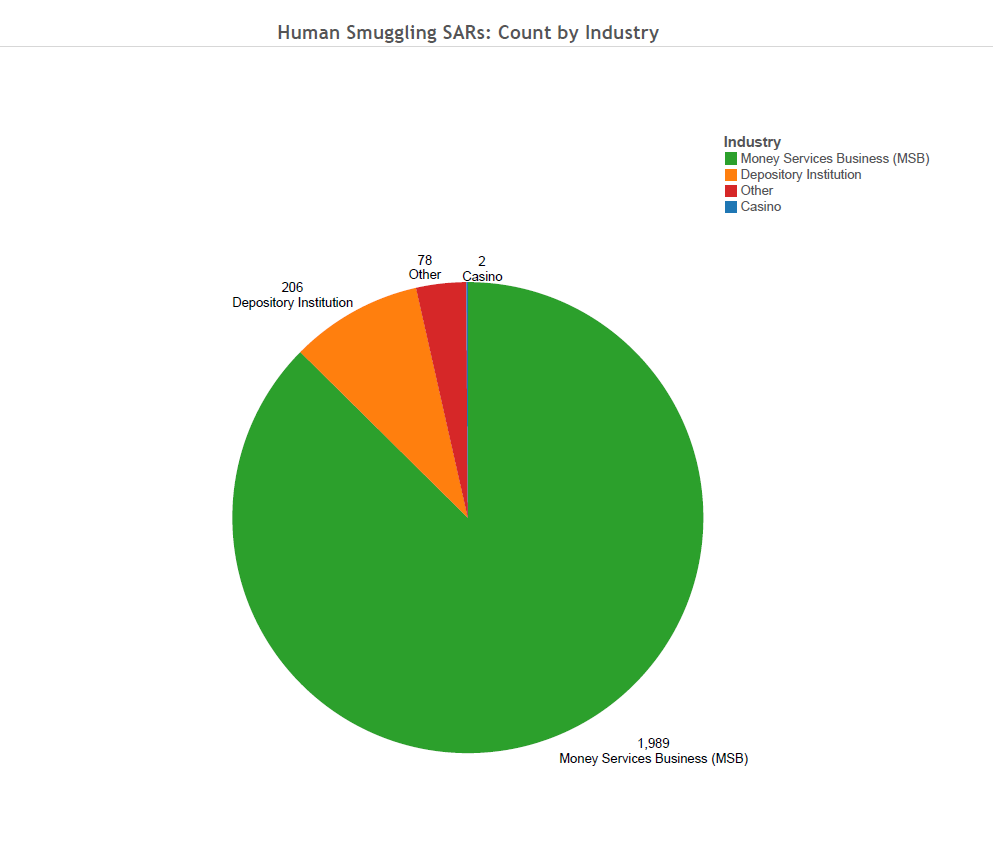 Instruments/ Payment Mechanism
Fund Transfers and US Currency held the overall #1 and #2 spots respectively for Instrument Type / Payment Mechanism. While banks reported US Currency as their #1 Instrument, they also identified human smuggling utilizing payment mechanisms including Personal/Business Checks, Money Orders and Cashier's Checks. In fact, over 15% of Human Smuggling SARs reported by Depository Institutions involved instruments that were not mentioned in FinCEN's 2014 advisory.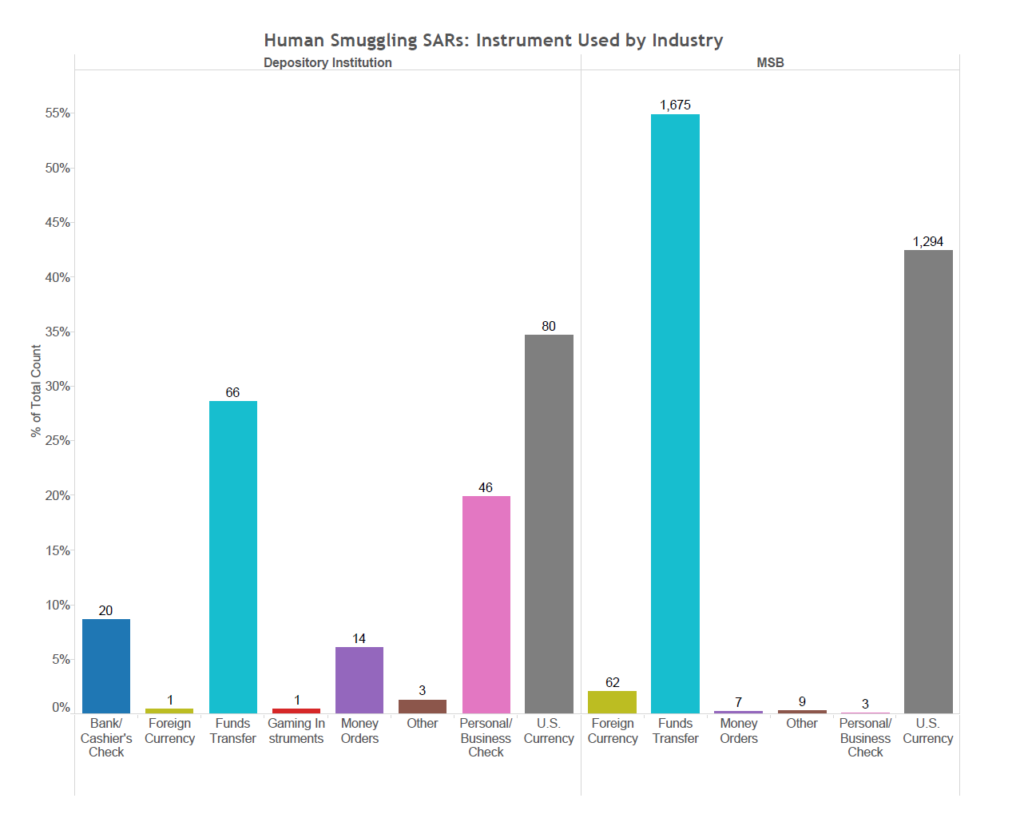 Product
A variety of products were used in Human Smuggling SARs including deposit accounts, debit and credit cards.

Geography
Human smuggling was reported in 722 unique counties by MSBs and 275 counties by Depository Institutions. Texas accounted for 33% of all MSB Human Smuggling SARs and 7 of the 8 highest reporting counties. Migrant smuggling SARs reported by banks are more geographically diverse with counties in six different states placing in the top ten by SAR count.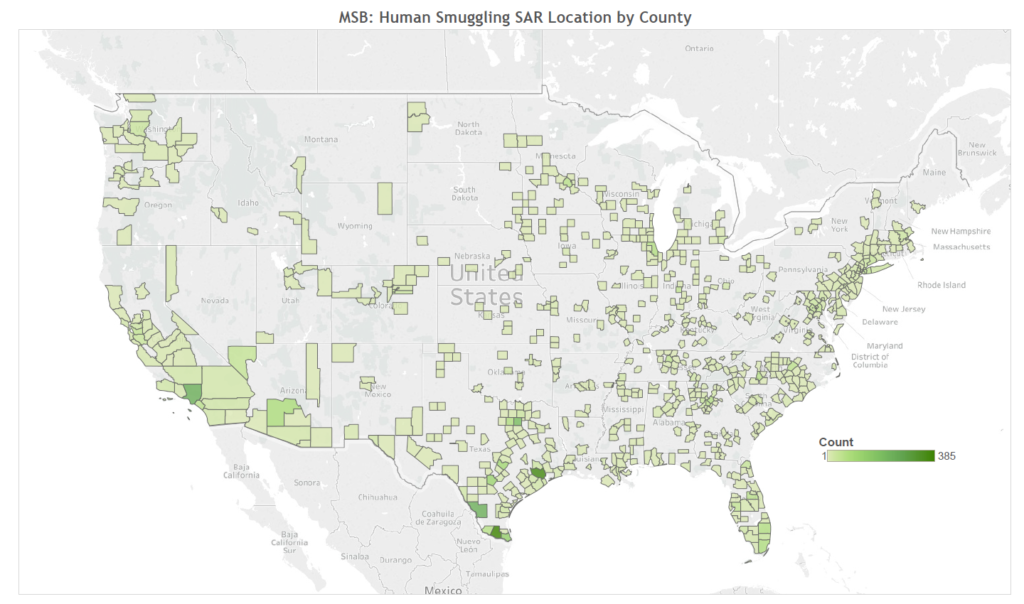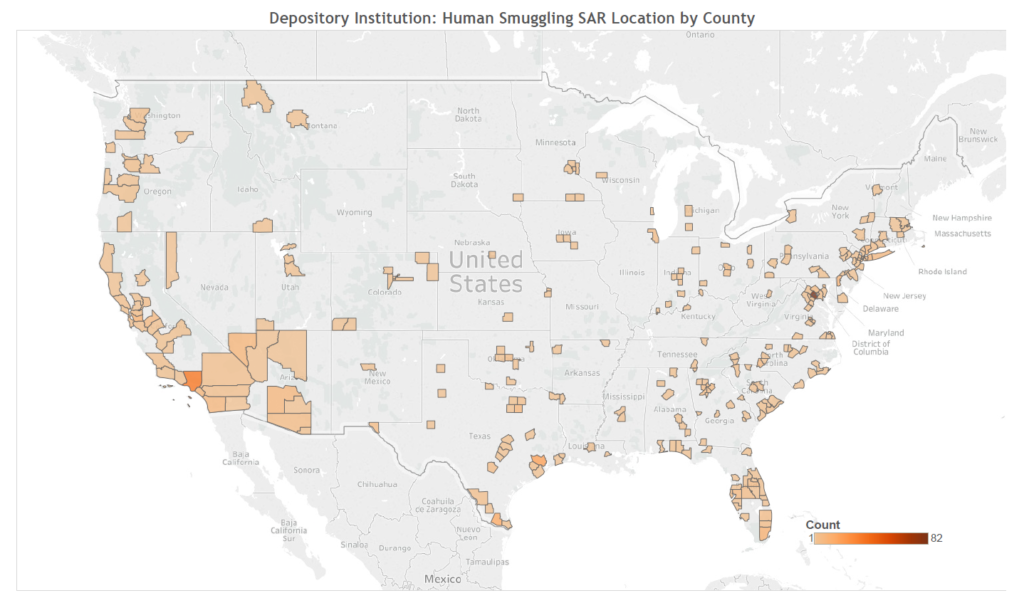 Areas for Improvement
The 2015 National Money Laundering Risk Assessment reported that migrant smugglers responded to increased MSB scrutiny by changing tactics to utilizing funnel accounts at banks. ICE HSI defined funnel accounts as involving an account at a bank with branches nationwide to make structured deposits in one or more geographic locations and then structured withdrawals in the state where the account was open. ICE reported this method was first associated with human smuggling but has been readily adopted by drug traffickers as well.
The relatively low number of Human Smuggling SARs reported by banks that involved deposit accounts could either imply that Depository Institutions have not yet mastered identifying human smuggling funnel account transactions or Smugglers have moved on to new methods.
The geographic concentration of Smuggling SARs may point to a gap in financial institutions' understanding of the complex nature of migrant smuggling. A recent study on corruption in the US Border Patrol found that 30% of the incidents took place at either the US/Canadian border or at US airports. Financial institutions need to keep in mind that US migrant smuggling also occurs via air or sea, and not necessarily at the southwest border.
Finally, Transnational Organized Crime ('TOC') including cartels, the Mafia and Chinese Triads play a role in worldwide human smuggling. The 2015 National Money Laundering Risk Assessment reported that Drug Trafficking Organizations "dictate when and where smugglers will cross the border." Financial institutions should not overlook indicators of other crimes when investigating suspected migrant smuggling.
2014 FinCEN Advisory on Migrant Smuggling
A 2014 FinCEN advisory provided guidance to financial institutions on identifying and reporting suspicious financial activity connected to migrant smuggling. The advisory offered patterns of transactions and behaviors that may be indicative of migrant smuggling along with the type of financial institution most likely to observe the Red Flag. DSA added the "Instrument / Payment Mechanism / Product" columns to the table below for clarity.
As noted above, financial institutions have reported a variety of Human Smuggling SARs that involved Products and Instruments that were not explicitly mentioned in FinCEN's Red Flag list.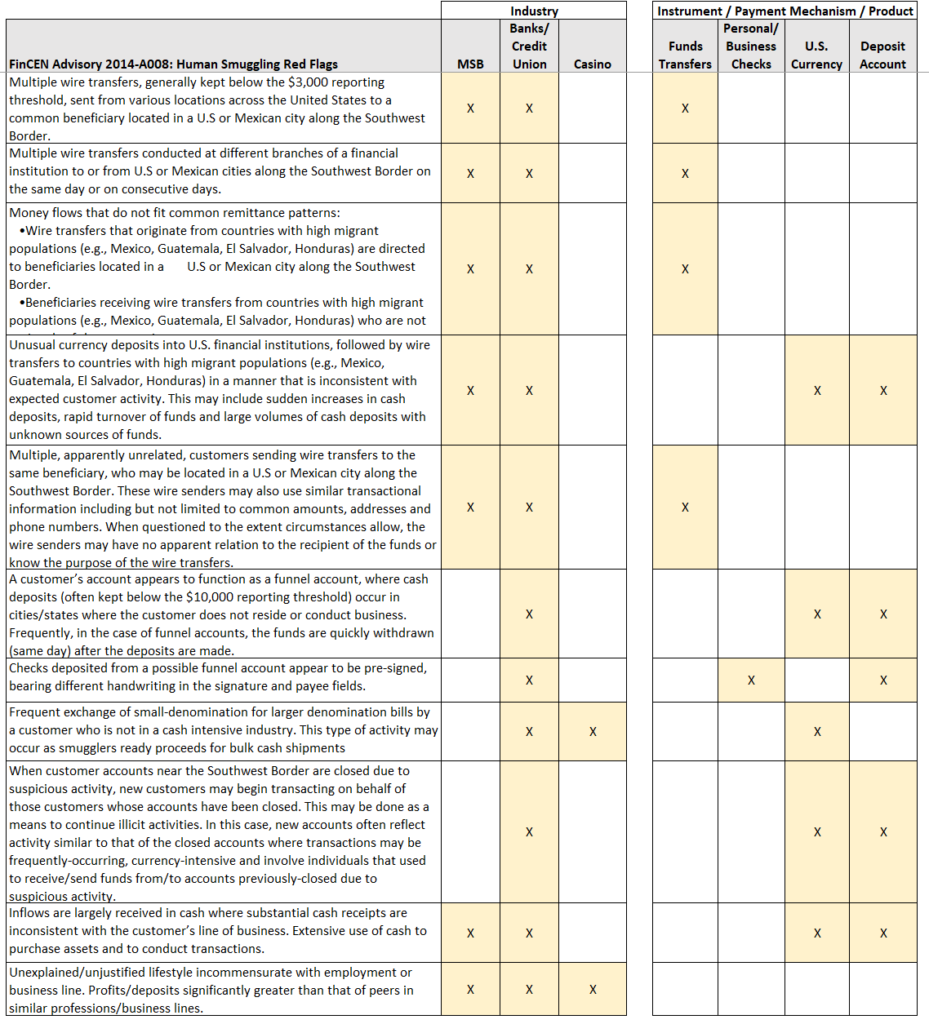 Learn More about Human Smuggling
UN Office on Drugs & Crime: Toolkit to Combat Smuggling of Migrants
UN Office on Drugs & Crime: Global Report on Trafficking in Persons
Global Initiative Against Transnational Organized Crime: Migrant Smuggling
Legal Executive Institute- Migrant Smuggling: What Financial Institutions Need to Know
*Exploiting the labor of the smuggled migrants is addressed separately by the crime of human trafficking.