FinCEN released In Focus: SAR Stats (Jan 2015 Quarterly Update) which includes all 2014 Suspicious Activity Reports (SARs). In total, FinCEN reported 1,726,731 SARs filed in 2014 compared against 1,276,002 filed in 2013. This is a 35% increase in SAR filings over the 2013 levels.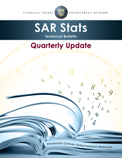 Major Increases in Most Industries
Dynamic Securities Analytics, Inc. analyzed the FinCEN SAR filings data and found the following major increases from 2013 counts by organization type:
Other Financial Services: ↑ 87% 
Casinos:  ↑ 69%
Money Services Business: ↑ 47%
Securities & Futures: ↑ 45%
Depository Institutions (Banks): ↑ up 24%
The sole outlier was Insurance which decreased filings by 6% from 2013 levels.
Get the full FinCEN report here.