With all the talk of corruption in the news these days, Dynamic Securities Analytics has taken a closer look at corruption Suspicious Activity Reports ('SARs') filed by financial institutions. SARs have separate categories for Domestic and Foreign corruption, we analyzed both.
Domestic vs. Foreign Corruption SAR Filings Differ
15,498 suspected corruption SARs were filed from March 2012 through June 2018. 3,696 of the SARs were for Domestic corruption while 11,802 were for suspected Foreign corruption. Depository Institutions (ie. banks and credit unions) filed the greatest number of Domestic corruption SARs, out-pacing the next largest industry, Money Services Businesses, by five-fold. On the Foreign corruption side, MSBs have filed the greatest overall number of SARs. However, the MSB total is skewed by two years, 2013 & 2014, that had extremely high filing rates which are outliers compared to other years.

Financial Instruments Differ in Domestic vs. Foreign Corruption
Domestic Corruption SARs
Personal or business checks are the leading instrument used in suspected public corruption as reported by banks, accounting for 29.33% of SARs. US Currency was the second most commonly used instrument in banks. When MSBs filed Domestic corruption SARs, 39.0% reported fund transfers and 36.8% reported US Currency. MSB funds transfers and US currency numbers are also skewed by the outlier 2013 and 2014 filing counts. The gaming industry saw Currency and Gaming Instruments as the leading financial instruments.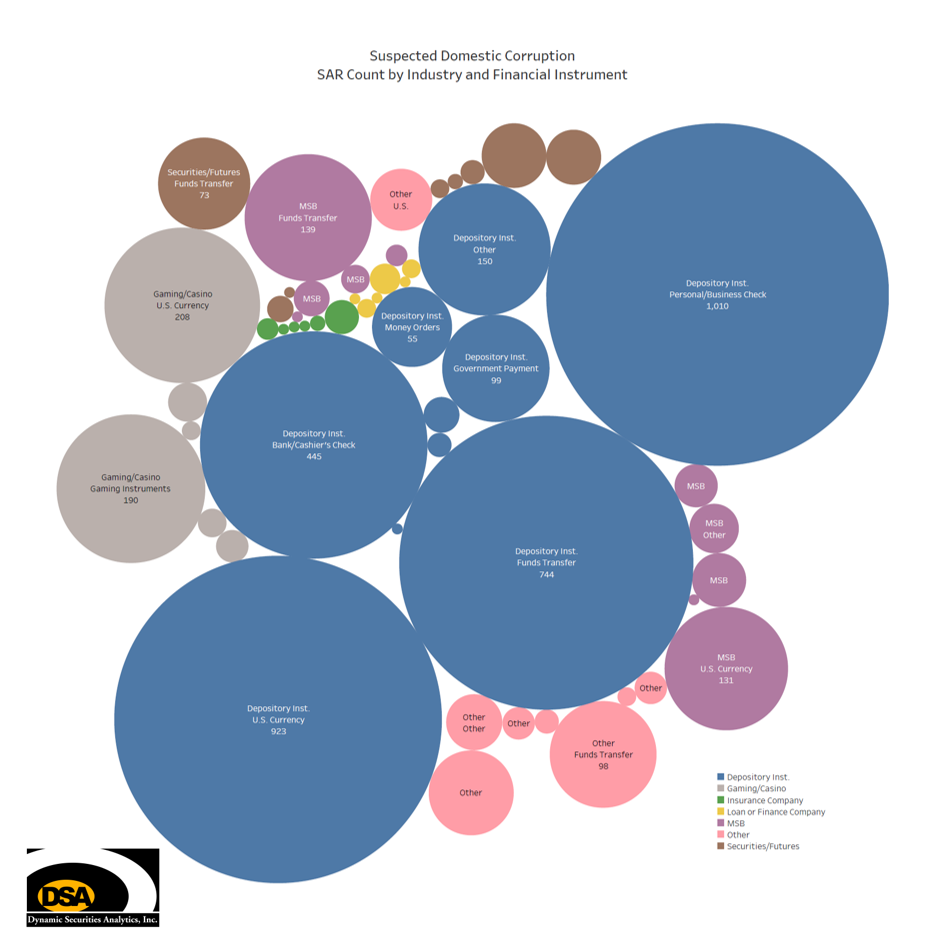 Foreign Corruption SARs
The leading financial instrument reported by Depository Institutions associated with foreign corruption was funds transfers, accounting for 60.7% of all SARs. Checks and Currency represented a much smaller share of Bank foreign corruption SARs, both at 13%. Securities/Futures reported the greatest use of fund transfers for Foreign corruption at 67.6%. Casinos reported US Currency and Gaming Instruments as the top two instruments used.
Fund transfers again held the top spot at MSBs for Foreign corruption but at a lower rate than Domestic corruption, 49.8% vs. 60.7% respectively. A closer look at the outlier 2013 and 2014 years shows that an almost equal number of funds transfer and US currency SARs were filed. For instance, in 2014 there were 1,713 fund transfers and 1,714 US Currency SARs filed for Foreign corruption. One possible explanation for this is that a MSB conducted a "look-back" specifically for Foreign corruption using a cash to money transfer typology.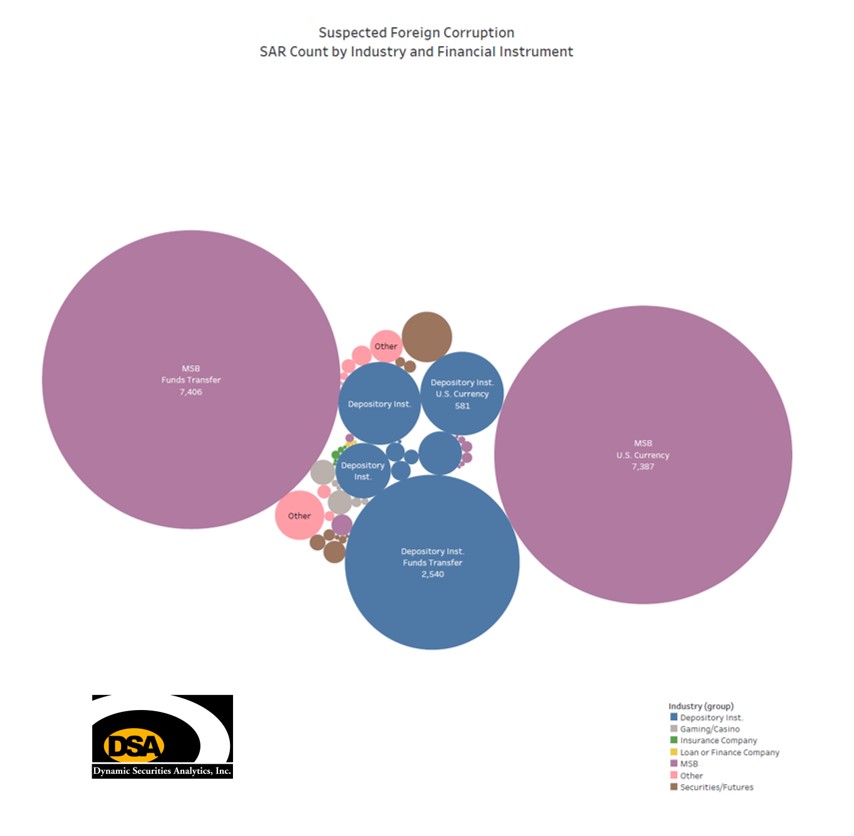 Bonus Geography Lesson
New York is the leading location for both Foreign and Domestic corruption SARs (see my articles on taking SAR location data with a good amount of skepticism). However, 16.25% of Foreign corruption SARs are reported in NY while the state only reports 9.72% of domestic corruption. Florida takes second place in foreign corruption by reporting 13.32% of the SARs (see the Miami Herald articles by Nicholas Nehemas on Venezuelan PEPs buying property in South Florida).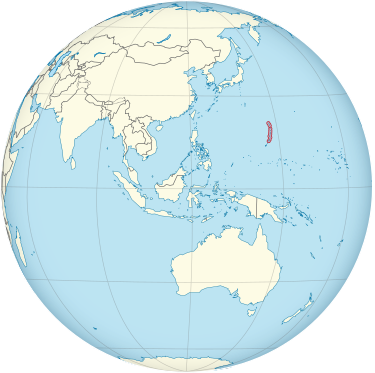 Raise your hand if you've heard of the Northern Mariana Islands. How about Saipan? If you haven't, I suggest reading the series of articles by Bloomberg about the casinos located in this US territory.
A quote from a Bloomberg article by Matthew Campbell and K Oahn Ha:
Imperial Pacific [casino] has attracted broad attention in the gaming industry for the volumes being recorded at its Saipan casino, which are far larger on a per-table basis than those at the grandest resorts in Macau.

Since arriving on Saipan in 2014, the company has become the dominant force on the island, a U.S. territory with a population of about 50,000. It has made millions of dollars in payments to Governor Ralph Torres's extended family, including long-term land lease transactions and hiring his brothers' law firm for its Saipan legal affairs. The governor and his relatives have said they have not acted improperly.

"As a matter of legal policy, the FBI does not regularly comment on criminal investigations, to include confirming or denying cases, their status as ongoing or not," the agency said in a written statement.

"However," it went on, "public corruption is the FBI's top criminal investigative priority. Elected or appointed officials are entrusted and expected to protect the interests of the people with integrity. When that trust is betrayed, the security and stability of our government is put at risk. Anyone with information about a potential violation of federal law is asked to contact the FBI."
Zero corruption SARs have been filed by casinos in the Northern Mariana Islands relating either Foreign or Domestic corruption despite the government's interest.
For comparison, Nevada casinos filed 213 Domestic and 62 Foreign corruption SARs.
Zero corruption SARs have been filed by banks in the Northern Mariana Islands relating to Domestic corruption.
Banks have filed 132 Foreign corruption SARs in the NMI. Nevada banks filed a combined 29 SARs for foreign and domestic corruption.
Banks appear to be doing a much better job of identifying suspected corruption in the Northern Mariana Islands / Saipan than casinos.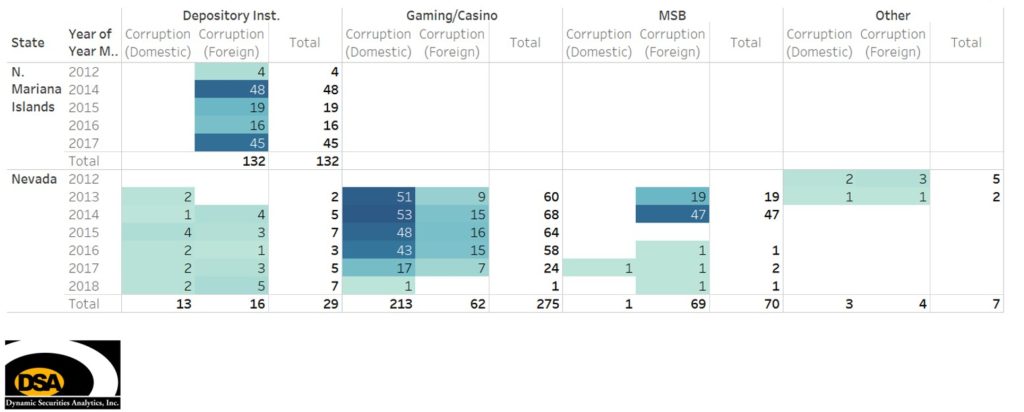 Related DSA blog posts:
Suitcases of Cash No Longer the Front-Runner in Corruption
Are Nebraskans Really the Most Suspicious People in the Nation?
* FinCEN SAR Stats was the source of raw SAR numbers. All analytics and visualizations prepared by Dynamic Securities Analytics, Inc.