FinCEN Targets Luxury Real Estate
FinCEN has issued a series of Geographic Targeting Orders ('GTO') regarding certain high dollar value real estate transactions. FinCEN explained that the GTO will "require U.S. title insurance companies to identify the natural persons behind shell companies used to pay all cash for high-end residential real estate" and file Form 8300 with FinCEN.
GTO Creep
FinCEN has expanded the GTO's geographic scope from two locations, Miami-Dade County and Manhattan, to 15 locations across the country. The depth of the data collection on "All-Cash" real estate purchases dramatically increased with the addition of fund transfers (including wires) in the 8/23/17 GTO. DSA prepared the table below that charts both the geographic and monetary instrument expansion of the GTOs.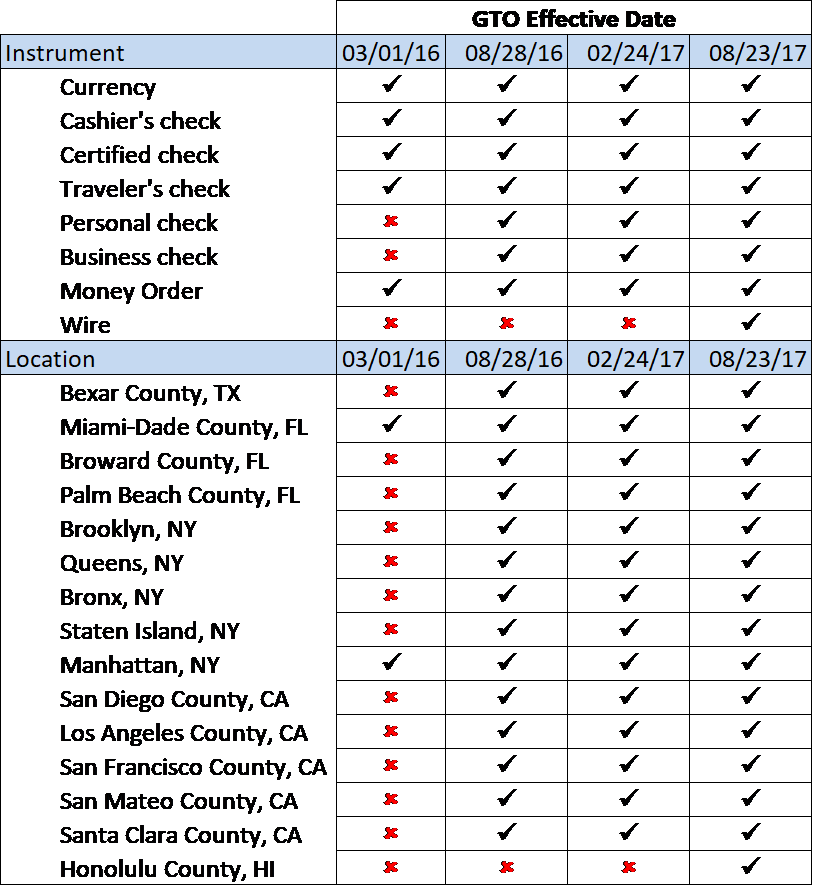 FinCEN Data on GTO Filings
FinCEN has publicly disclosed limited information derived from the GTO data collected thus far. According to the press release accompanying the 8/23/17 GTO "about 30 percent of reported transactions involve a beneficial owner or purchaser representative that was also subject of a previous suspicious activity report."
Dynamic Securities Analytics, Inc. ('DSA') obtained the following data points from FinCEN related to the real estate GTO covering Miami Dade and Manhattan for the period 3/1/16 – 7/19/16 pursuant a Freedom of Information Act request:
34% of beneficial owners were foreign persons

$2.9 million was the average purchase price for covered transactions in Miami-Dade

$6.5 million was the average purchase price for covered transaction in Manhattan
The Miami Herald obtained the data below on 8300 filings from 2/28/16 through 3/9/17 from FinCEN pursuant to a Freedom of Information Act.

Are Title Insurance Companies Meeting the GTO Requirements?
DSA analyzed residential property sales records for Palm Beach and Miami-Dade counties. We sought to determine how many residential real estate transactions, would have potentially been covered by the GTO and to compare the potential number to the actual number of 8300s filed.
Palm Beach County
DSA analyzed residential property sales records for Palm Beach County for from 8/28/16 (when the county was first subject to the GTO) through 3/9/17 (the end date of FinCEN's data above).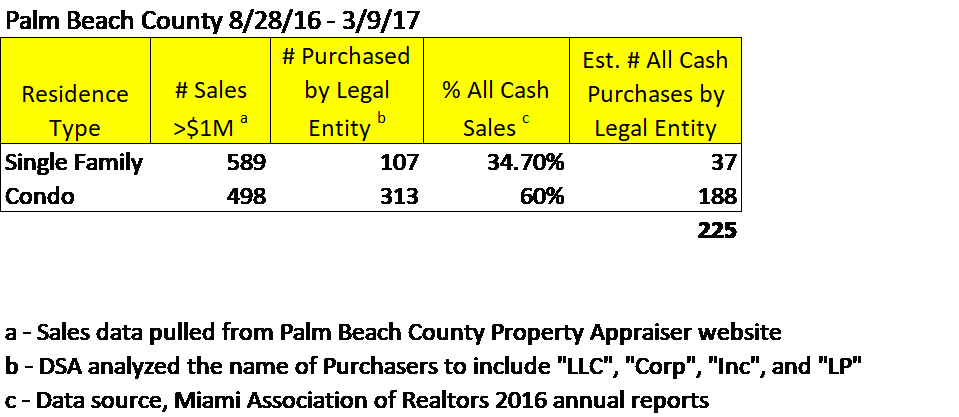 DSA estimated that 225 "All Cash" purchases would have been made by Legal Entities1 during that time-period. FinCEN reported that 4 Form 8300s were filed. Keep in mind that "All Cash" purchases could have used wire transfers that were exempt from the GTO until this week's updated version.
Does it seem reasonable that only 4 of 225 potential covered transactions used a business check, personal check, cashier's check or money order to complete the purchase? If the other 221 transactions were exempt from the GTO because wire transfers were used, then the recent addition of fund transfers will close a major loophole.
The other option is that Title Insurance Companies are failing to meet the 8300 filing requirements.
Miami-Dade County
DSA analyzed residential property sales records for Miami-Dade County for calendar year 2016. This time-period is slightly different that the time-period covered by the FinCEN data above but both periods cover ten of the same months.

FinCEN received 32 Form 8300s during the period that DSA determined that approximately 318 Legal Entities would have made "All Cash" purchases of residential property. Again, DSA questions whether Title Insurance companies are meeting the GTO requirements or whether the Legal entities were predominantly using wires which were previously exempt from the requirement.
FinCEN defines Legal entity as follows: "Legal Entity" means a corporation, limited liability company, partnership or other similar business entity, whether formed under the laws of a state or of the United States or a foreign jurisdiction.
Note that while FinCEN describes the GTO as being used against "shell companies" the definition is much broader capturing legitimate corporations and limited partnerships among other entities. DSA analysis was updated on 8/28/17 to exclude purchases by trusts from estimates of covered transactions.
Sources: Miami Realtors Association annual sales reports, Palm Beach County Property Appraiser