On April 22nd, 2015 FinCEN released In Focus: SAR Stats (April 2015). Dynamic Securities Analytics, Inc. ("DSA") analyzed the new Suspicious Activity Report-Securities/Futures ("SAR-SF") data and found that Market Manipulation/Wash Trades SARs have increased 63% from 2014 and 105% from 2013 levels (on a quarterly basis)*.
The same day FinCEN released the latest SAR Stats, Navinder Singh Sarao was arrested on charges of market manipulation and wire fraud related to the 2010 "flash crash." Mr. Sarao's arrest is a high-profile example of regulators cracking down on alleged market manipulation.
Penny stocks/microcap securities also saw a spike in SAR-SF product type, up 87% from 2014 levels. The SAR filing increases for market manipulation and penny stocks may be related in that penny stocks are often the target of market manipulation schemes. If you're looking to start investing in stocks or commodities without getting involved in manipulated markets, have a look into financial services from companies like SoFi or others and have a look into their investment opportunities. If you are looking for specific investment opportunities such as cryptocurrencies, you may want to look towards websites that can help with the distinct information that you may need. Looking at broker.cex.io can help you see what currencies, such as Litecoin and Bitcoin, are doing in the market.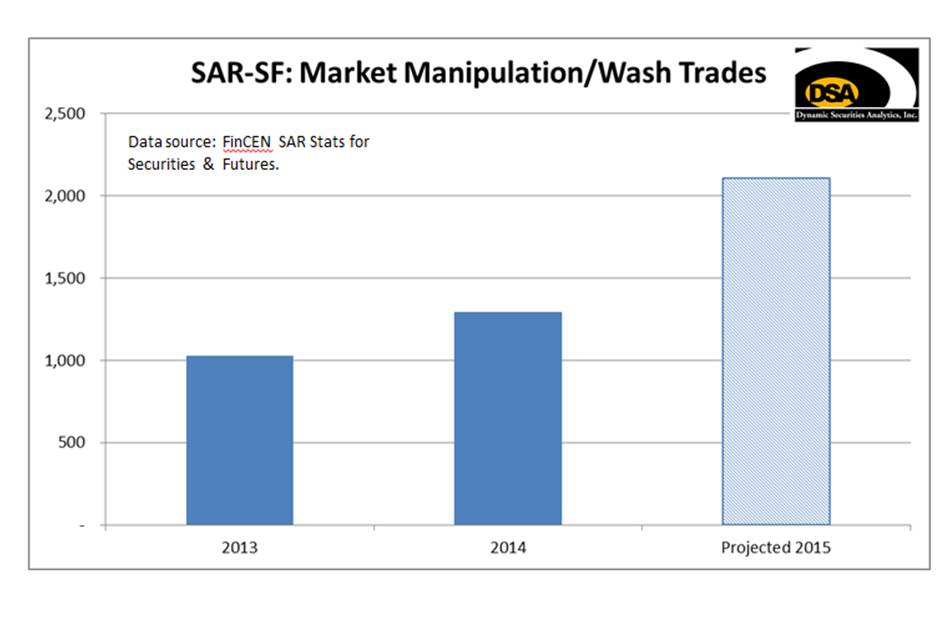 Other Key Findings:
Financial services companies may be making some ground in the battle against cyber-crime. Account takeover is down 21%, identity theft is down 16% and unauthorized electronic intrusion is down 30%.
It appears that the worst of the mortgage fraud days are in the past. All types of mortgage related suspicious activity saw large decreases.
Reporting of casino related SAR-SF saw the largest increase of any category over 2014 levels with an increase of 1,425% for Casino-Other SARs.
Total 1Q15 SAR-SF filings are on pace with the 2014 number of filings. Keep in mind that 2014 saw a 45% increase in SAR-SFs over 2013.
* FinCEN instituted a new SAR form in 2012 which makes comparing earlier periods difficult.